WeTrack is delighted to welcome Leoni Keogh as our new Growth Product Manager! Leoni brings a great amount of customer success and product experience, and we're very pleased she has joined us. Here we get to know Leoni, her career so far, her goals for WeTrack and how she likes to relax...

Leoni, welcome to WeTrack! Firstly, please could you tell us a bit about yourself?
Thanks, I'm excited to be a part of the team! Originally from Ireland, I moved to London in 2012 (a great year to experience the city for the first time!) for a job opportunity, and loved it. Since going to my first festival - Oxegen, in Co. Kildare - I've always been really interested in being involved in events, particularly on the customer side.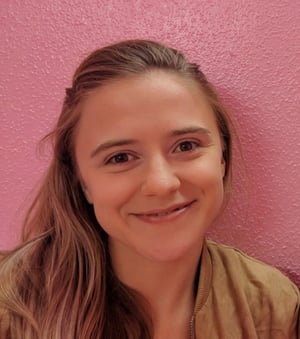 In my spare time I'm a huge planner, so always looking to see what Airbnb, restaurant, bar, or holiday I can book. I also took up running as a lockdown hobby, so desperately trying to keep that up!
More recently I've moved to Bristol with my partner, so I'm really enjoying the outdoors and hikes in the countryside.
We'd love to hear about your career up to now. How have you ended up at WeTrack?
Absolutely. I started my career as the Customer Information Manager for Croatian festivals Outlook and Dimensions and, following that, I've worked at an array of different events such as V Festival, Lambeth Country Show, and Horizon Festival (based in Bulgaria).
After a brief stint working at the infamous Infernos Clapham (!), I started at a company called DesignMyNight.com. Initially hired as a Bookings and Concierge Executive, I then became their first Customer Success Manager. There I looked after onboarding, training, support, and, later, product strategy for their first SaaS product. By the time I left in 2020, I headed up the Customer Success teams for the three hospitality products, which consisted of an events and reservations system, a ticketing solution and a gift vouchering service.
More recently I worked at the SaaS start up Guider. Focusing on people development and making mentoring accessible at organisations such as Clyde and Co, EY and Deloitte, I worked with clients to deploy large scale programmes into their company.
What are you hoping to achieve as Growth Product Manager at WeTrack?
I really enjoy working with customers to make their experience with a software as good as it can be, especially through training, resources, onboarding and product feedback.
At WeTrack we have a great product and amazing clients, so my focus will be to help to get people into their system and love it!
As always, let's end with a fun one - describe your perfect day off!
I've recently found the Bristol - Bath cycle path so I'd set off mid-morning and if the weather's looking good, go for a swim before heading into Bath to have some lunch and a little wander around. After the cycle back, I'd probably pick a restaurant from my extensive 'Bristol must visit' list, and end it with a glass of wine in my garden!

Thank you, Leoni! Very happy to have you onboard.