It is a hugely exciting time at WeTrack as sport and events industry professional Laura Hoppe joins us to head up our new Australia office! With this hire we are bringing in a brilliant industry expert and positioning ourselves to better support major events, venues and organisations in Australasia in boosting their planning and operations. Let's get to know Laura!

Welcome to WeTrack, Laura! Firstly, could you tell us a bit about yourself?
Thanks, I am delighted to join the WeTrack team and represent the company down under. Like many Aussies, I have a huge passion for sport and I've been fortunate enough to work in the industry for over 14 years now, across a variety of roles, organisations and locations. Event planning and operational delivery are my predominant areas of interest, having held related roles with Netball Victoria, British Rowing, Glasgow 2014 Commonwealth Games, International Paralympic Committee and the ICC Cricket World Cup 2019.
I spent 10 years abroad, returning in January 2020 (just before the COVID pandemic hit) with my German husband to plant some roots here in Australia. I am very grateful for the journey I've been on and opportunities that I've had to work across international boundaries. Being able to meet so many amazing people, experience different cultures and conquer the odd challenge or two has not only made me more compassionate, stronger and more resilient but it has led to the creation of many wonderful memories.
So you've worked at Games' and major events, for national and international sporting federations: why have you now chosen to work for a supplier?
I first came across WeTrack whilst working at the ICC Cricket World Cup 2019 in London and I immediately saw the value and potential in the software. At the time I was only using WeTrack's incident management software, but I liked what I was seeing and was interested to know what else was available and in what direction the company was heading.
Since that first sighting of the software, I have been wishing that I had access to it sooner. It would have been a game changer in my previous roles! So, making the switch to working on the supplier side with WeTrack was an easy decision.
The opportunity to promote WeTrack to others and be a part of its continuous development, whilst utilising my skills in project management and operations is a win-win. I genuinely want to make a positive difference to anyone in the sport sector that can benefit from the products.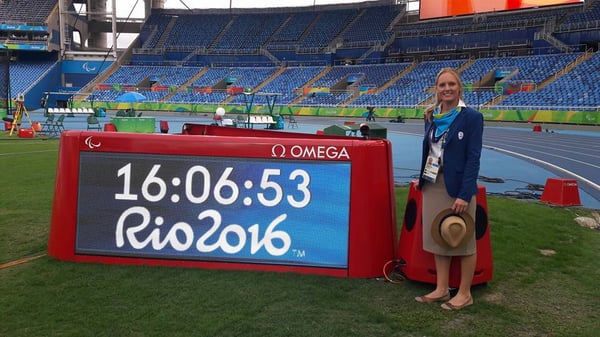 What are you hoping to achieve with WeTrack in Australia?
There are two main areas of focus at the moment: supporting our current clients in Australia, and attracting new clients. Having a base in Australia means we can now communicate in this time zone, and more effectively service and reach clients across the entire Australasia region.
On a deeper level, I am hoping to turn the reasons why I joined WeTrack into reality. Technology is constantly evolving, and I want to support major events, governing bodies and venues to adopt ways of working that are more efficient and sustainable. WeTrack does that! If I can attract like-minded clients within the Australasian market and keep them onboard through great customer service, then I will be very happy.
We'll end with a light one. Tell us how you'd spend your perfect day off!
I love starting the day with a morning jog by the beach or a swim in the ocean baths, followed by a yummy Aussie breakfast. Smashed avo all the way! There's no better place to watch the sunrise than down by the beach. It's so peaceful and relaxing and I always generate more energy and motivation just by looking at the waves.
To complete the perfect day, it would be spent with my husband by my side enjoying some activity such as hiking or cycling, followed by a really big ice cream, and some time relaxing at the beach. The evening would be topped off with a BBQ and a couple of sundown cocktails.

I think that last answer will make everyone want to live in Australia! Thank you Laura, it's great to have you join us at WeTrack.