It is fantastic to welcome Eric Solem to WeTrack as our new Commercial Director. Eric brings a huge amount of industry experience, having worked for organisations including Expedia, AS Roma, PTI Smarter Venues and The Sports Playmaker, and joins WeTrack to help us scale up and support more and more of the world's best events, venues and organisations. Let's get to know Eric!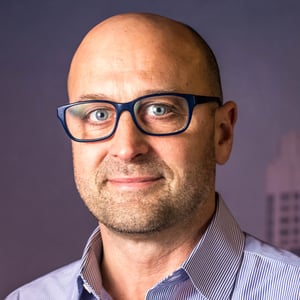 Welcome to WeTrack, Eric! Firstly, could you tell us a bit about yourself?
I've been lucky to have lived and worked in the US, Italy and the UK, and that experience has given me the opportunity to work on many interesting and complex projects all around Europe. My professional sales career started when I was living in Italy and learned how to sell in a language I was still learning at the time! I became a partner in a regional sales agency in Tuscany selling football kits. It was a wonderful experience, and I learned a lot about interacting with people. Next was software sales across Southern Europe for a US company. Working with clients across Europe in different sectors has given me a broad understanding of problem-solving using technology. Thinking about those experiences also reminds me of how much I miss travelling to meet clients and build face to face relationships with people. I also have two young girls who are letting me know on a weekly basis how much they want to go on holiday!
You have a vast array of experience across the sport and events industry, what appeals to you about working for a SaaS company in this space?
I started off selling software back when it was all about on-site client server projects with big professional service costs and lengthy implementation cycles. Of course, that has all changed now, and I subsequently learned, in roles where I procured, evaluated and recommended SaaS solutions, how quickly and effectively you can achieve desired outcomes with the right solutions. The sport and events industry are fast-paced environments with change constantly accelerating, and solutions like WeTrack are meeting those demands by listening to our customers and delivering solutions that quickly improve operational efficiencies. When I started, projects had an endpoint, a destination arrived at with delivery of the 'project'; now it's a journey without a final destination but instead continuous iteration and improvements. We need to continually be updating and adjusting our priorities which requires well-designed, flexible solutions. WeTrack is driven by this ethos.
What are you hoping to achieve with WeTrack?
One of the greatest achievements any company can have is selling through word of mouth and referrals. WeTrack has essentially done this until now. I want us to build on this success by continuing to deliver the solutions that create significant operational efficiencies and genuine 'a-ha!' moments for our customers. We already have a significant global presence, and my job is to help us expand that and open up new areas of growth. Plus, we have an exciting roadmap of products under development which will open up a whole area of new opportunities. Stay tuned!
What do you think are the biggest challenges facing the world of sport, events and venues in the coming 12-18 months?
Coming back from Covid and understanding the new normal. I remember vividly when last March the NBA cancelled games and the significance of the impact of Covid started to become real very quickly. Everyone in the sports, hospitality, events and entertainment businesses were instantly faced with the biggest challenge in our lifetimes. We have all had to adjust and rethink our operational plans. We are now starting to come back with new procedures and requirements for event operations which bring new challenges. WeTrack has an existing set of products which can significantly help organisations manage these processes – and, as I mentioned, we will be delivering some exciting additional products shortly. It's an exciting space to be working in.

Thank you, Eric. You have made some very interesting points there - welcome again to WeTrack and we look forward to seeing your work in action!
If you also work in the sports and events industry, explore our solutions here.