The idea for WeTrack formed just a mile away from Leyton Orient, in the Olympic Park, and we are proud to be back in east London with a banner at The Breyer Group Stadium this season.
The London 2012 Olympic and Paralympic Games showed Clive Stephens and Peter Ward that we could improve the way we plan and deliver major events. The time for endless spreadsheets, meetings, emails and manual reports was over! After almost two years of software development, WeTrack was born, and first deployed as a project management system for the 2014 Ryder Cup, at Gleneagles.
Now, WeTrack returns home. We were originally set to sponsor the O's in a cracking evening Carabao Cup game against Premier League table-toppers Tottenham Hotspur, in September but it was cancelled due to multiple positive COVID tests for the home team. Instead, we have agreed to sponsor Leyton Orient with a banner in the main stand. We love seeing our name up in the stadium, but we'll be happier when the banner is removed and fans can return around the ground.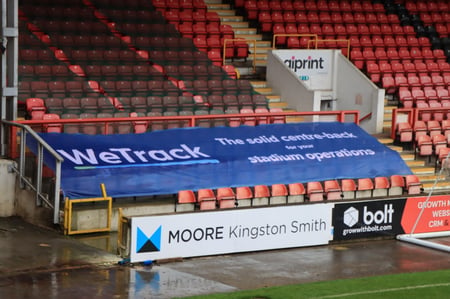 WeTrack: The solid centre-back for your stadium operations!
Of course, it's not just Orient games where our banner displays. We were surprised to see the 'Sidemen' - a group of YouTube personalities - taking a penalty shootout in front of our banner. We're not sure how many of the 2.2 million viewers are in our target audience, but exciting nonetheless! If it's your kind of thing, or your kids', you can watch the video below.
10th in League Two, looking up and only six points off a promotion spot - it's a good time to be an O. Here at WeTrack we are huge sports fans and we are very proud to be supporting our local team as we head into 2021. Come on you O's!

New to WeTrack? Here's an intro to the company sponsoring Leyton Orient this season...
WeTrack provides modules throughout event planning and delivery, including project management, risk and issue management, readiness and venue checks, run sheets, and incident management. Our purpose is to help federations, events, venues and stadia of all types, of all sports and of all sizes to improve their operations. Since 2014, we've supported the operations of the ICC Cricket World Cup 2019, Royal Ascot, Wimbledon, World Triathlon, and many more of your favourite events.
The last year has been the toughest that most in the entertainment and events industries will have dealt with in their career. For an industry that was thriving, the downfall was swift. Our focus now is to help businesses survive and emerge more sustainably. Now more so than ever, we want to provide the world's greatest events, venues and stadia with security in their operations, with accountability, audit trails and accurate information. Get in touch to learn more.