It is an 'appy day at WeTrack as we formally launch our new mobile app for wider use! WeTrack users can work in the app across every module, on iOS and Android devices: perfect when working on-site or on the move.
Read on to learn more about how our users now have WeTrack in their pocket!
There has been a big shift in flexible and remote working in the last couple of years - which is great. There is also constant digital transformation taking place in every industry. We hope our app will play a small part in both of those areas - enabling WeTrack users to work how and where they want, at home, in the office or on the move, in a smart digital environment.

Update plans on the move, in every module
Manage your projects, tasks, risks, incidents, indicators and much more. You can run reports, view dashboards and update settings too.
Add and edit items, communicate with your team and receive and respond to push notifications for the most important alerts. This is the next step in making WeTrack even smarter, more flexible and more collaborative than a spreadsheet!
A snapshot of our Project Management, Readiness, Risk Management and Sustainability modules in the app

Effective incident management in your pocket
You can now manage your incidents, checks and run sheets in the app - perfect when working on-site. Add incidents and communicate back-and-forth with your control room or operations centre. Crucially, give staff on-site an immediate channel for information exchange; and give your central control team both visibility over the site and the ability to manage issues effectively.
Effortless operations, on-site, in your own device. The same great functionality, on the move!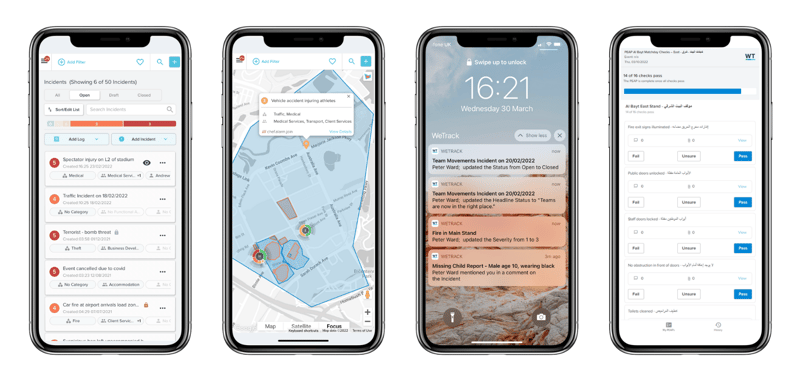 A snapshot of our Incident List, Map View, Push Notifications and Checks module in the app

Get in touch to learn more about using any of WeTrack's suite of modules within the mobile app. We'd love to show you around!