We are very excited to announce a huge new upgrade to the WeTrack project and risk management system - 3 years in the making and finally launched this past weekend.
It's a massive boost for us, with simpler editing, better filters and faster loading to improve every WeTrack module, and a whole new projects and risks module with a series of changes. It has all been designed and built so that our fantastic clients get even more value out of using WeTrack, while spending a lot less time doing so.
Here's the fun introduction:
And here's the detail:
We wanted our users to be able to communicate better across the system, so we have built @ mentions into our comments. We wanted our users to be better informed about changes to work that affects them, so we have built a new in-app notification centre. We wanted our users to be able to make changes more quickly, so we rolled out inline editing across the system.
And crucially, we wanted our systems to run even quicker and more consistently, so we upgraded our technology stack and prioritised performance and speed.
Here are our favourite things about the new system, for which we'll be publishing fuller introductions in the coming days. If they get you as excited as they do us, just get in touch!
MyTrack: we've made big improvements to each user's personal hub in the WeTrack system, so that you can more easily keep on top of your most pressing work.
Reports: we've made it easier to build, layer and share reports - and we've made them load faster.
Notification Centre: this new area gives you much better oversight of any changes that affect you, drawing your attention to and letting you deal with what's important.
Inline Editing: the new key premise of editing in WeTrack is that anywhere you can see a piece of information, you can edit it. Sounds useful, right?
Dependency Management: we've made this even clearer and easier so that you can keep on top of other items that might affect your work.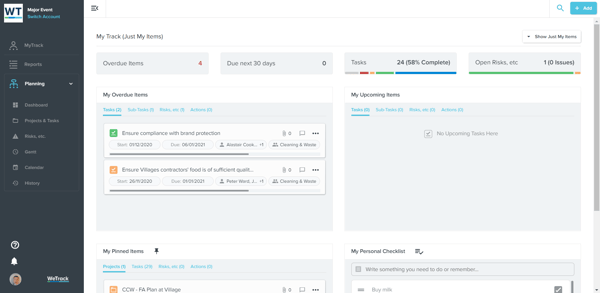 Here's the first snippet, our re-vamped MyTrack page. Find out more soon!
And there are big changes for our risks and issues module too - the first being that you can now track (and exploit) opportunities too. There is also a customisable risk matrix so that you can manage risk in the way your organisation wants to, and improved strategy and action tracking so that you can deal with uncertainty properly.
That's probably enough reading about our new system now. If you want to be shown around or start a free trial, just hit 'Demo' at the top of the page. We'd love to hear from you.