WeTrack attended the Stadia and Arena Summit at Swansea Arena, May 4th and 5th. At midday on Day 1, our Commercial Director Eric Solem sat on a panel discussing new trends and approaches in safety and security in the wake of the pandemic. Here, we take a look at the main talking points.

The panel consisted of the following: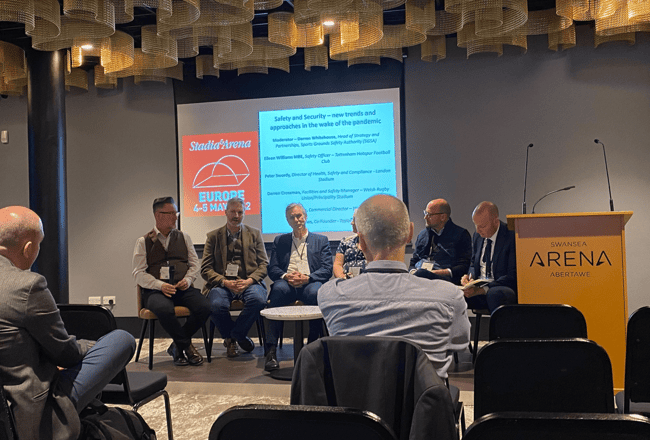 Read on to learn what the panel discussed.

Fan Entitlement
The panel first discussed the issue of fan behaviour in football stadia. Behaviour has been worse since the return of fans after the pandemic, and there is a greater media spotlight on it too. It seems to be an issue specific to the football fan demographic, with the trend not reflected at other sports or events. Stewards are facing particular battles. Fans often adopt a pack mentality to block a steward's access to an offender. Children are often used as mules to bring in alcohol, drugs and flares. Fans are often seeing no consequences to this bad behaviour.
Stewards
There is a staffing vacuum in the industry. Staff are not returning post-pandemic, having found better job security elsewhere. It takes 3-6 months to train a new workforce with essential qualifications, and relationships and teamwork take time to develop - so staff churn is a big issue. At the Tottenham Hotspur Stadium, they have 1200 people applying for roles, so at least that demand is there.
Digisiting
Stadia are still largely reliant on pen and paper. There is a need to consider the requirements arising out of the Protect Duty, and assess whether putting in a digital system to track incidents and checks around the site will drive efficiencies and increase accountability. There is also a challenge in converting a lot of disparate data into useful information.
Ready to be more proactive and accountable in your stadium operations? Book a demo with WeTrack today!
Flares
Flares are becoming more and more of an issue in English football stadia. They are increasingly commonplace in the UK, following on from Europe. They are easy to obtain - and also relatively easy to conceal in an area which will not be searched!
Steve Laws shared a very useful story from the recent Everton v Chelsea match, with a passionate home crowd that was tense, angry and desperate. The police let fans set off their flares outside the ground, with no intervention. This was the correct decision, both ensuring no police-fan conflict and also reducing the number of flares actually entering the stadium. This demonstrated the importance of engaging with and understanding the fans and their behaviours and feelings.
Protect Duty
Protect Duty (Martyn's Law) brings new challenges and more work. 'Zone X' is not a new idea, with operations knowing the importance of fan engagement from transport hub to turnstile. There are so many stakeholders on that route - local business, transport, police, residents - and none want the cost or the liability for ensuring security. Should it really be the event that bears total cost? The Protect Duty might change the dynamic once the law lands. If a football club puts barriers up at a railway station to control fan movements, who holds liability?
Safe Standing
There has been a positive early adoption at Tottenham. There could be issues with multi-purpose venues, however. A safe standing rail might be great for a football fan, but what if a child or disabled spectator has an obscured view at a concert? It is also tough for older venues to integrate new infrastructure.

Thank you to all of the panellists involved in such a fascinating discussion! And thank you to the organisers of the summit for bringing it all together.