This piece is the first in our series looking at event control for major events. The Main Operations Centre, or MOC, is the hidden hub of any major event, designed to provide central coordination of all event-time operations. Here we look at its purpose, its organisation and its role at major events.

Taking one step back, let's begin with the Games-time objectives for operations teams. They need to have:
Oversight of all events and venues

The tools to manage incidents and issues as they arise

A log of everything happening across sites

Expertise and information available for when it is required
A lot of this activity happens within the MOC - it is the operations hub at Games-time. The MOC:
Controls a hub of information affecting venues, stakeholders and more

Acts as a single source of truth for that information

Provides support and resources for operational venues

Facilitates incident response

Reports exceptional trends and activity up to DOGO (Director of Games Operations) level
As is clear, the MOC relies on the flow of information: between the executive level, MOC level and venue / operational site delivery level. This ramps up rapidly as teams go on site and the event gets closer. So where does the MOC get this information?
Static information: run sheets for venues, contingency plans, competition plans, venue drawings / CADs. Most of this can be planned long before the event.
Dynamic information: weather forecasts, daily statistics, MOC reports, CCTV, crowds. This is where good information flow at Games-time becomes crucial - so that the right information reaches the right people at the right time, in live time.
Let's now have a look at where the MOC fits in to the complex puzzle of people working at, or affected by, an Olympics or other major event.
Here is the internal organisational structure of the MOC, stretching from the Decision Support Service that will closely support functional and venue teams, up to the DOGO who will oversee the most important details and most severe incidents.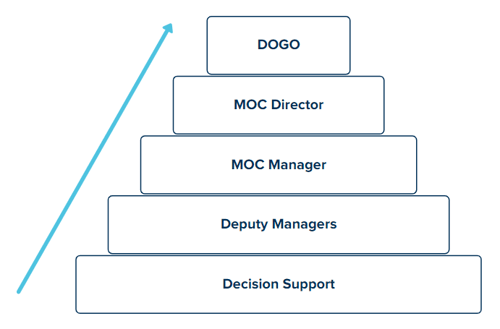 Here is how the MOC fits into wider decision-making processes at Games-time.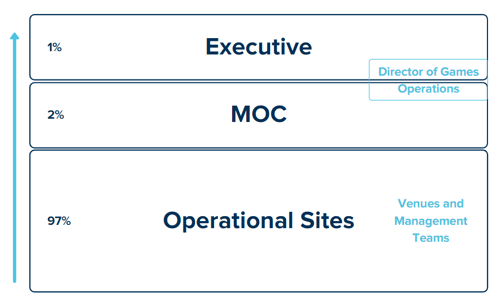 And here is a map of the stakeholders which the MOC exists to support.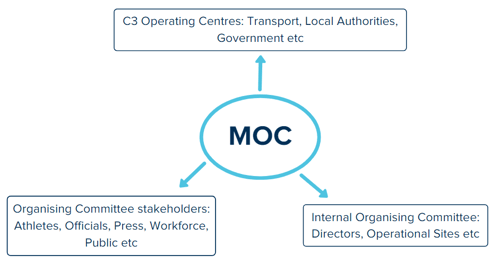 There are a few other parts of the MOC and relevant parties to be aware of:
Strategic Coordination Group (SCG): this team provides strategic oversight of Organising Committee Operations at an Olympic Games - the MOC feeds into this;
MOC FA desks: these are the MOC leads on function-specific risks, issues and incidents, providing the link between the MOC and the FAs across operational sites;
Functional Coordination Centres (FCCs): these support the FAs across Organising Committee operations at an Olympics;
MOC Administration: this team plays a vital role in providing organisational and administrative support (as necessary) to facilitate MOC operations.

The importance of the Main Operations Centre at a major event is evident. All other teams rely on it and it is the hub of information flow and decision-making at Games-time. On a smaller scale, that is true of event control at any event. If you're working in event control at any level, explore how WeTrack can support your pre-event checks, run sheets and incident management.