One of the most important aspects of your event management - whether you're considering finance, reputation, safety and security, or anything else - is the ability to deal with incidents swiftly and adeptly as they arise. That is true for any event or venue, but there is added scrutiny and potential impact for a major event. Here, we look at the hub for recording, resolving and reporting on incidents at major events - the Main Operations Centre, or MOC.
In this piece we look at the who and the how: the teams involved and the processes that take place when an incident occurs.

Who resolves Games-time incidents?
Let's look step-by-step at the key parties who might need to be involved in resolving an incident.
The Venue team / Functional team on-site take the lead on resolving. If they have the tools to resolve it, then they don't need to escalate to the MOC;
An issue that requires further oversight might be escalated to the FCC (Functional Coordination Centre), for a particular function to manage;
An issue of higher severity, or one that requires multiple functions for resolution, will be escalated to the MOC;
Then the Decision Support Service assists, providing information, monitoring progress for the daily MOC report, recording agreed actions and writing up issue resolution reports;
Incidents of exceptional significance might be taken all the way up to the DOGO (Director of Games Operations, but the acronym is more fun).
If the incident does get escalated to the MOC, this is the chain of command: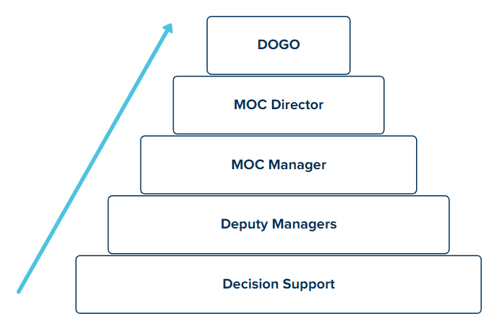 So how does a Games-time incident get resolved?
The priority - as with any incident at any event of any scale - is to confirm everything that is known: detail, location, impact, timing, what has already happened and what has already been communicated to impacted parties;
Then there a number of ways of resolving an incident, including forming a team to tackle the incident (if very significant), consultation of relevant material such as contingency plans, and liaising with affected parties. Here, a lot of the crucial work is done long before the incident takes place - check out our incident management template to help you with your planning here;
If reported up the chain to the MOC or even to DOGO, recommendations for resolution and any further action would be made at the highest level involved;
A vital step once the incident has been resolved is post-resolution analysis of any implications - financial, legal, reputational etc - and any communications that need to go out.
Of course, everything must be logged in case required for legal or other investigation after the event. A major event would be using incident management software to record, resolve and report on incidents in a secure, efficient and accountable way.

To manage incidents successfully, an event control room needs the right place, the right processes, the right equipment and the right people - that is true whether you are delivering a local fair or an Olympic Games. Not every control room is at a major event scale, but the basic best practices hold true in every case.