WeTrack is very happy to announce that CHALLENGENORTHAMERICA has signed to use our project management system as they make race preparations for CHALLENGEDAYTONA in December 2020.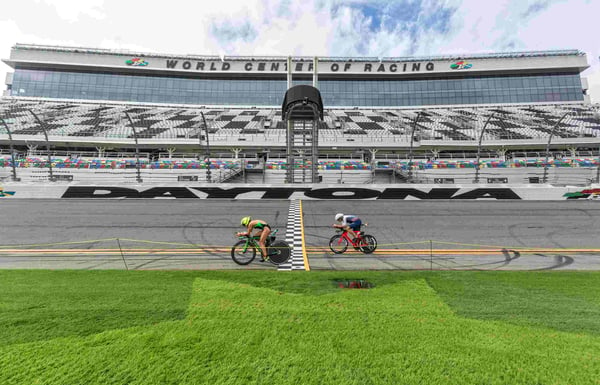 CHALLENGEDAYTONA recently announced a $1 million professional purse prize, for the PTO Championship 100K triathlon race to be held at Daytona International Speedway® - they will use WeTrack to streamline their project management in organising each event, seeking continuity and collaboration with their event operations.
CHALLENGEDAYTONA Festival will take place from December 4th to 6th, 2020, with the professional race taking place on the final day, which will be live streamed to the world at 10.30am. The Festival also includes middle distance and sprint distance races, kids' races, Pro Am relay, 10K and 5K events. The community boasts the backdrop of the beautiful beaches of Daytona Beach with amazing hotels, restaurants and attractions that are ready to welcome guests.
CHALLENGENORTHAMERICA will screen all athletes, spectators, vendors, volunteers, and staff that enter the Speedway and will work responsibly with the surrounding hoteliers and restauranteurs to control the outdoor environment.

Peter Ward, Managing Director of WeTrack, commented, "It's a great step for us to sign a contract supporting such a fantastic event, and we look forward to working with CHALLENGENORTHAMERICA to improve their operations and deliver many more events over the coming years."
Jillian Wilkins, Chief Operations Officer at CHALLENGENORTHAMERICA, is excited to start using WeTrack, "Signing up to use WeTrack's project management system is a big boost to our operations and we are excited to have already started using the system. The collaboration and consistency that the system encourages will really help our organisation to improve as we deliver our events and expand our portfolio in the future."

To learn more about WeTrack's project management software for events, explore here:
About CHALLENGENORTHAMERICA
CHALLENGENORTHAMERICA is led by athletes to enhance race experience for athletes and their families. Our mission is to advance the sport with family-friendly, professionally managed and family-inspired races for all ages and all race abilities. CHALLENGENORTHAMERICA is extending the legacy of CHALLENGEFAMILY to the North American triathlon market. With the experience of almost 40 full and middle distances in 26 different countries, CHALLENGENORTHAMERICA has founded a new hallmark event at the iconic Daytona International Speedway®, home of "The Great American Race®" - the DAYTONA 500®, and voted "Best New Race" 2018 by Triathlete Magazine.

About CHALLENGEDAYTONA
Are you ready to swim, bike, and run at the "World Center of Racing®"? From December 4th-6th 2020, Daytona International Speedway will welcome triathletes and triathlon fans from around the world to CHALLENGEDAYTONA. Named "Best New Race" 2018 by Triathlete Magazine, the entire festival of events will take place at the approximately 500-acre motorsports complex, home of "The Great American Race" - the DAYTONA 500.